I finally have stuff to post about! :O


Parents actually let me stay out of the house overnight. :O It was amazing. It also took three days of convincing so I don't know if I can do this again all too soon, but progress, yay! Just sad because more friends of mine were not present at this most momentous event. :(

Friday morning = Japanese class. Last Friday morning involved Caelin telling me she'd come with me to class, despite the fact that it's at 8 in the morning and thus insane. She gets there on time, gets as far as the door, stops, peers in, turns to me and goes "your class is too small, I can't disturb!" and scuttles to a place opposite the hallway to plop herself down for the remainder of the class. It was a 3-hour class. As I had given her her birthday present, she set it up in front of her with a "I <3 Steph" sign in front of it. She looked like a street merchant. I told her as much. She still wouldn't come in.

Afterwards involved bussing/walking back to her house and me learning how to color on PS. :O And Caelin learned my horrible secret--I am absolute crap in figuring out shading and where light should fall.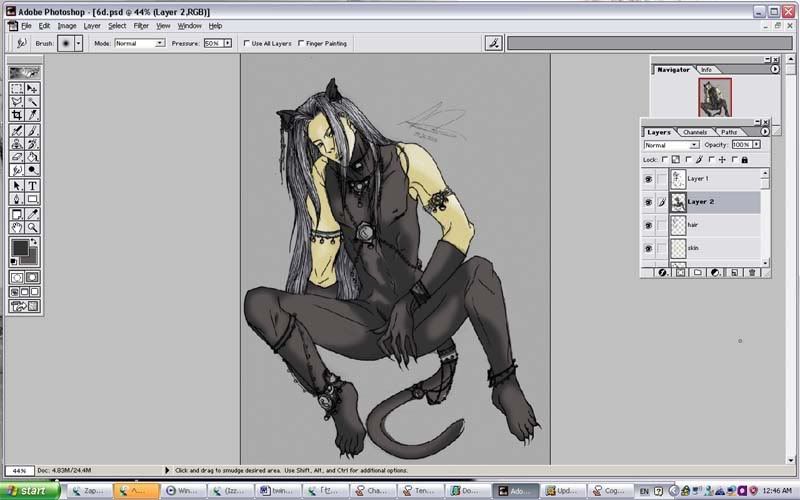 WIP and most of the blotches don't make sense yet, but that came out of me! *is so shocked and amazed*

Anyway! So that took up about... five hours or more. And being distracted by Mugen. That is one of the most precious kittens ever. Caelin running around in a bowtie and white blazer and straight hair is a pretty interesting sight too.

So once we got out to Hamilton (being in cramped backseats of small cars where my neck is bent in awkward angles from low ceilings while in pouring rain almost makes me fear for my life. Almost), dropped off our stuff, piled ourselves into the cab, and sat around in a bar waiting for midnight to strike, it didn't take long for midnight to strike.

Swooped over to the theater, went in, sat down, was faced with old Caspar the ghost, was amused. Costume contest began, cheering, etc. Movie began, obligatory screeching, people yelling things though they couldn't throw them, lalala~

Flopped over at George's, sprawled around his room talking until about 4, wandered over to fold-out couch (his mom's awesome), eventually went on to discuss randomness and RP and velvet sheets (if I were going to restart FK would you want to come play with me? :D?) with Caelin before we both dropped off.

Next morning involved waking up early (me, I'm cool), dozing again, talking anime with Caelin and actually getting to say "was it good for you too?" like any cheesy bed scene needs. It was made better by the fact that she went to bed with the blazer on, snerk.

Lunch was breakfast and breakfast was amazing and huge because if I haven't mentioned this before, George's mother is awesome and George's father is Santa. Afterwards, in our lack of decision-making, we watched the most awesome film in the world which I will have to buy sometime soon called The Lost Skeleton of Cadavra. I don't know how many times I need to tell you that this movie is one of the best things I've ever seen in my life.

Afterwards, Sarah mentioned wanting to shop for yarn. George's mother immediately whipped out a gigantic chestful of stuff and gave Sarah free rein and a pair of knitting needles. I went :O

Home came after that. It was only marginally less scary driving in the Volkswagon in broad daylight because that meant speeding. It also meant I got home pretty quickly though!

Almost immediately after I got home, I was tossed in the shower for smelling like a bar and the moment I got out, parents announced we were going to Pacific, dry your hair, hurry up. So I did and went away away away to Markham. I was on the hunt for an Axel. (I found one, but he was a) fake and b) selling for $44.99 while the actual price is less than $30. I enlisted Vicki's help in getting me out of the store without making the boy go all wibbley on me behind the counter. *pets the boy*)

Did buy a hair ornament, but I dropped it early this morning and broke off a leaf. *is sad* Does anyone know how to solder? :\ And bought phone charms but I seem to have lost one. The other is made of awesome though!




AND THEN!

I ran into one of the most painful ita-lolis I've ever had chance to lay eyes on. And this was real life, not the internets, which made it all the more crazy. Like I told
capslock_loli,


DEAR THE CRAZY ITALOLI WHOM I MET AT PMALL YESTERDAY,

YOUR HEADDRESS WAS CRAP. IT HUNG OFF THE SIDE OF YOUR HEAD. AN INCH MORE AND IT WOULD HAVE BEEN HANGING OFF YOUR EAR. YOU WERE WEARING WHITEFACE THAT LOOKED LIKE YOU WERE HUNTING THE BARGAIN RACKS FOR CRAPPY HALLOWE'EN CLOWN MAKEUP AND YOUR EYELINER PUT THE GRUDGE TO SHAME. YOU WERE IN SPAGHETTI STRAPS WITH LACE HOT-GLUED IN CIRCLES AROUND YOUR BREASTS, YOU WERE IN A SKIRT THAT LOOKED LIKE FRILLY UNDERWEAR AND YOU WERE WEARING SNEAKERS WITH "LACE" DRAWN ON THEM IN WHITE-OUT.

YOU HURT MY EYES. I WAS TRYING TO IGNORE YOU AND YOUR MAXIPAD HEADDRESS BY TURNING TO MY SISTER. I WAS NICE AND TALKING BEHIND YOUR BACK INSTEAD OF TO YOUR FACE LIKE I'M SUPPOSED TO.

IT IS VERY HARD TO IGNORE YOU WHEN YOU SWOOP DOWN ON ME LIKE AN AVENGING ANGEL OF GOODWILL AND SLAP ME IN THE FACE.

HEAVY SIGNET RINGS AREN'T VERY LOLI AND WHO WEARS SIGNET RINGS NOWADAYS ANYWAY? I TAKE NO BLAME FOR WHACKING YOU WITH MY PARASOL (READ: UMBRELLA, IT WAS RAINING) AND TELLING YOU YOUR FACE WAS MELTING OFF FROM ALL YOUR EXERTIONS. NONE.

NO LOVE,

- S


Yes. Yes I did hit her back with an umbrella. Yes I invoked physical violence against a stranger and got rust on her shirt. But she hit me. Justice needed to be served damn it! >=( If only I had had a camera. If only I had had even my phone camera. If only Vicki had been with me when the italoli cornered me, ranted at me and slapped me in the face. If only Vicki had been there with a camera. Because like
killclosedrown said, it was like internets drama only in real life. Except it was so wacky, it figures it'd only happen in my real life.

I'm freezing. Bedtime. Thus concludes the life of me. And here I'd been going "my life's gotten all settled up and quieted down!" ;p

Whoever reads all that gets a cookie, I swear.